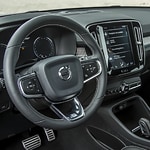 When you are in the market for a high-performance compact SUV, look no further than the new XC40 from Volvo. Volvo's XC40 offers you the full luxury and features that you look for in a high-quality vehicle for your family. Find out how its trim features set it apart from its competition today.
This innovative performance compact SUV features a sporty trim that gives it a powerful and visually appealing look. It catches the attention of anyone who sees it passing by. Its black trim complements its metallic, glossy exterior color.
The new XC40 also has a textile trim on its interior not only for performance but added visual appeal. The textile trim makes the interior luxurious and comfortable. It also maximizes the wear and usefulness of the XC40.
Finally, it comes with trim that makes it easy to handle on any road condition. See the trim of the new Volvo XC40 today.