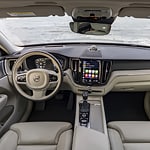 The Volvo XC60 has made a huge impact on the automotive society and for good general reasons. This luxury SUV has it all from stunning good looks to remarkable interior comfort. Volvo has constructed this machine in a number of trims for your liking, but there's more.
The Volvo XC60 has an intuitive interior that's captivating. This luxury SUV has cutting-edge technologies that will keep you and your passengers entertained while commuting. The available audio system is premium, and it produces concert-like sound quality. In addition to that, you can stream your favorite tunes via Android Auto. If you possess an iPhone, then you'll love having Apple CarPlay access. The Volvo XC60 goes even further by offering Bluetooth connectivity for hands-free functionality. The vehicle's navigation is quite accurate, and there are voice-command features.
Hit us up today at our dealership; we may offer a test drive.